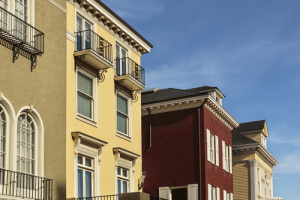 Think Stucco
Thinking about upgrading the exterior of your home? The investment you make in an exterior upgrade can boost your home's curb appeal, property value, and help your home withstand major weathering. It's not a light decision to make, but if you're looking for a traditional look, we recommend considering stucco as an option. Stucco can add curb appeal and increase the property value to most homes.
Though it isn't the best option for your typical DIY-er, it is a relatively low-cost option to upgrade the exterior of your home. With a competitive housing market, having an updated exterior that offers many benefits such as energy efficiency, will help your home sell quicker than the competition. With multiple options to consider when remodeling your home adding or changing up the look of your stucco is a great alternative to pricier options.
A Unique Mixture
As we prepare to head towards the colder months of the year, stucco is a great temperature neutral exterior and will be a nice addition to your home to ensure a comfortable winter. Stucco is a plaster made of cement, sand, lime. When mixed with water, the mixture hardens. It is generally applied in two to three layers depending on the exterior surface of your home. Offering many benefits as the exterior of your home it is bound to make your list of things to consider while remodeling or even building your new home.
Energy Efficient
Stucco creates a solid, durable and timeless look to your house while also having many other benefits. Serving as a great insulator for hot and cold weather, it is also energy efficient by helping maintain a constant temperature in your house.
Fire Resistant
One inch of stucco provides a one-hour fire-resistance rating as well; this means that it is a great exterior option for high-density housing and houses that are located close to each other. The fire rating means that it will take one hour to get from one side of the wall to the other side. Offering a fire-resistant option for your home will help resale value and will also provide some peace of mind in an emergency.
Remodeling Options
Stucco is a good, and practical option for remodeling the exterior of your home. Since the cost of materials is cheaper than other options for exterior homes, the majority of the cost goes towards the labor-intensive process. Choosing to use stucco on the exterior of your home is appealing to many due to the fact that homeowners have the option to repaint the color giving them options for future remodels without having to completely redo their work.