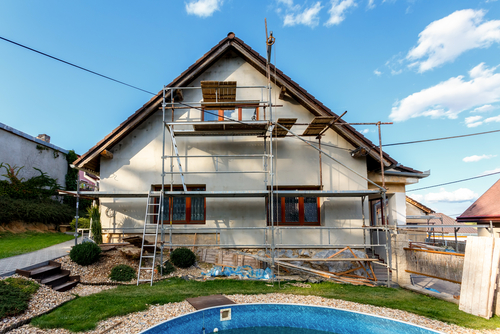 One mistake that many homeowners make is to continuously update the interior of their home, but to neglect the exterior of their home. We see why this is done so much. After all, the interior of a home is often on the homeowner's mind, more. However, according to a report done by Remodeling, updates done to the exterior of a home actually yield a higher ROI for less money than interior home improvements. For this reason, it's important to balance improvements made on to the interior of your home with exterior improvements, as well. To help narrow down home improvement projects, here are some of the exterior home improvements with the highest ROI…
Replace siding
Replacing the siding on your home can be a large project, but it is one that pays great dividends. According the the report by Remodeling, a full replacement of the siding on your home may cost you about $14,000, but will improve your home's curb appeal and protect other aspects of your home. For this reason, you can expect to get over 75% of your siding investment back when you sell the home. Remember, though, that the costs will vary, depending on the specifics of your home and the specific siding materials.
Updating roof
Each of these projects is going to have a wide variance that you can expect to pay for the initial project, and a new roof is no exceptio. A new roof in a medium price range is going to run about $20,000. However, replacing a roof has a proven track record of getting nearly 70% of the value back when you sell the home. In addition to this, it can also improve your insulation, which reduces energy costs.
New front door
This is easily the simplest way to update the exterior of your home if you are looking for a quick ROI project. Studies have shown that even just changing the color of your front door can have an immediate impact on your home's curb appeal. If you want to update your front door for maximum ROI, getting a steel door for the entry of your home will run you nearly $1,500, but will get you back over 90% of that investment when you get to sell the house.