The professionals at Burbach Exteriors are experts in commercial rain gutter installation for offices, medical centers, malls, retail stores, and more. Commercial rain gutter systems play a critical role in the health of a building's roof and foundation.
If your building does not currently have a rain gutter system installed, or has a gutter system that is in need of repair, we are here to help. Properly installed rain gutters can prevent some of the following costly problems:
Property lawn and garden erosion
Basement flooding
Damage to the foundation
Damage to the building's exterior
Decrease in value and lifespan of the property
If you are unsure about the quality of your current rain gutter system, or if you are experiencing any of the problems listed above, give us a call and we will come out for an inspection.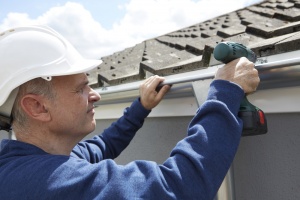 OUR PROCESS IS TRIED AND TRUE
We have been in the business for years and are dedicated to each project. There is a reason we are trusted by so many property owners to handle their exterior remodels. Contributing factors include materials, processes and expertise. We use only the highest quality materials for all of our installs and have mastered the science of commercial rain gutter installation. From inspection to placement we perform each of the following steps carefully and reliably:
Material selection
Measuring
Cutting
Dry-fitting
Bracket placement
Fastening gutters in place
Downspout assembly
Securing all components
Post-install quality inspection
You are sure to find lasting quality with Burbach exteriors. Whatever the job, big or small, we are ready to exceed your expectations.
GOOD COMMERCIAL RAIN GUTTERS SAVE YOU MONEY
Clogged, damaged or leaking rain gutters can result from debris, damage to the physical gutter structure, or trees losing their leaves seasonally. If these problems go unresolved, it can cause the water to pool next to your foundation. Standing water is almost always a problem. We are experts in ensuring that your commercial rain gutters are designed to avoid such problems.
With over a decade of experience, we can assist you in not only creating the look you want but protecting it for a lifetime.