For over 15 years, Burbach has installed and repaired high-quality siding products to Utah residents. As more and more people realize the benefits that premium siding can bring to their home, it has become an increasingly popular choice among people who are looking to remodel the exterior of their home. We are always happy when people ask us to help them remodel their house's exterior using the trusted products we carry.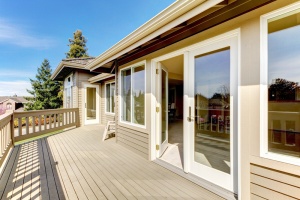 THE BENEFITS OF REMODELING YOUR HOME'S EXTERIOR
After you have customized the interior of hour house with decorations, renovations, new paint, and other personal touches, it's time to renovate the exterior of your home. Whether you're looking to increase the value and curb appeal of your home to sell it, repair damages, or take measures to make it truly yours, renovating the exterior is a perfect way to do so. Here are some of the most prominent benefits that come from remodeling your home's exterior.
More attractive aesthetic. How attractive your house is from the outside influences how much you enjoy living there and how many potential buyers you will receive when you try to sell the house.
Lower maintenance. New siding requires much less maintenance and fewer repairs than old siding.
More energy efficient. With developments in technology, exterior home sidings have become more energy efficient, helping you save money on the costs of heating and cooling your living space.
Increased value and curb appeal. The investment you make in renovating your house's facade will pay itself off in part when it comes time to sell it.
Increased home security. Taking the time to renovate your home's exterior will help protect everything and everyone that you are trusting your house to protect.
THE BENEFITS OF OUR HIGH-QUALITY SIDINGS
With complete customer satisfaction as our first priority, we only work with brands that have earned our trust and the trust of our customers. Over the years, we have specifically chosen two brands that have stood out above the rest: Mastic's Vinyl Siding and James Hardie Siding. Both of these products have consistently proven to be high quality, long-lasting, and affordable. Here are a few more reasons why we proudly stand by these products and all of the work we do with them.
Extremely durable. These sidings are so durable that they often come with a lifetime warranty. These sidings will look nice for years to come, requiring less maintenance than other home exterior options.

Weather resistant. Your home's facade has to endure all kinds of weather, from extreme heat, fast wind, pouring rain, and freezing snow. Over time, these elements can cause significant damage to regular home exterior products. These sidings, on the other hand, are certified to withstand various weather conditions without suffering much damage. They are even rated to withstand winds of 100 miles per hour!

A consistent, customizable look. With a large selection of colors, textures, and style choices, you can customize your house's appearance to fit your vision. Whichever color you decide on, it will be sealed into the material to provide a reliable finish that will last longer than most paints.
GET THE HOME EXTERIOR YOU'VE ALWAYS WANTED
Our goal is to help you make your dreams a reality. When you trust us to remodel your house's facade, you can count on us to help you every step of the way, including:
The design process. We have 3d modeling technology that you can use to get a realistic preview of what your house would look like with the various siding options we have available. We also offer our expert advice on which sidings would fit your house's style and aesthetic better than others.

The installation. Our professional team has over 15 years of experience installing these sidings. We are one of the only approved contractors to install these products, and we have earned that approval by consistently doing a good job.
GET MORE INFORMATION FROM THE EXPERTS
If you're thinking about remodeling your home's exterior, we can help you. We would be happy to offer advice, discuss your options, and help you in any other way we can. We are confident that our siding products will exceed your expectations. If you have any questions about our siding products, the installation process, or the other exterior product options we carry, give us a call today.