When it comes to choosing siding for your new home, there is no name better trusted than James Hardie. James Hardie brand is a recognized world leader in construction and its products have been installed on over eight million homes in North America. It is beloved for its durability and beauty and it comes in a wide variety of gorgeous colors and styles. It has received many accolades from renowned contractor-focused trade publications and media such as Money Magazine, Good Housekeeping, Southern Living, Green Builder and so much more. James Hardie siding is worth the investment.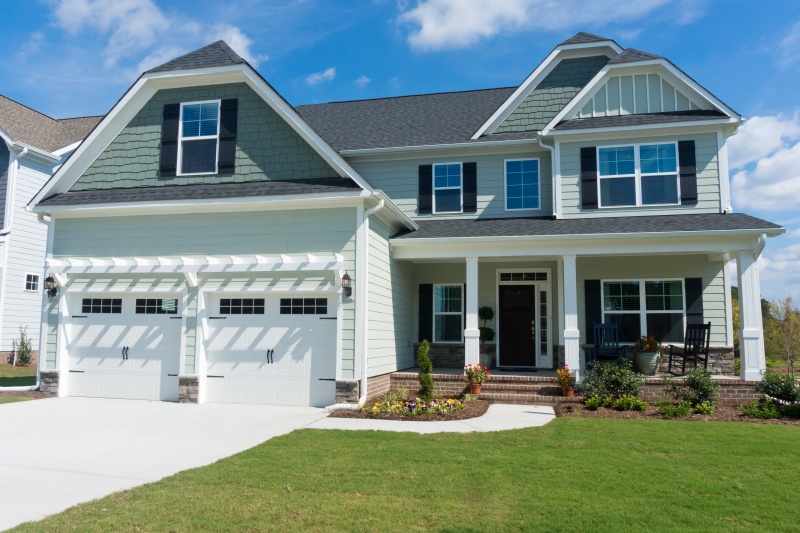 Strength and Durability You Can Trust
James Hardie siding is a unique material blend. It's 90% sand and cement content, which means it's fire resistant. It also holds up under conditions that would wreck just about any other kind of siding, such as wood warps, rots, and cracks. Compare this to vinyl siding, which melts and doesn't have the same authentic look. Even OSB, which is known to be engineered wood siding, cracks under the fluctuation of temperature.
Durability Backed By Warranty
The Salt Lake Area experiences a wide array of weather. From our chilling, icy winters to the heat of summer, you need a siding that will be able to weather it all. James Hardie siding is made of fiber cement, making it incredibly durable and able to withstand the harshest conditions, no matter the season. They back this up with a 30-year non-prorated warranty.
Resistance to Rot and Moisture – There's no reason to worry about rot or moisture damage when you choose James Hardie siding for your new home. They are the only siding company that has engineered siding products made for specific climates. Their siding dries quickly and easily and is incredibly strong, which makes it resistant to rot and helps it stand up to any storm.
Built to Withstand Temperature Fluctuations – The temperatures in the Salt Lake area change frequently, causing homes to contract and expand. This can cause damage to traditional siding. James Hardie siding is engineered to withstand these drops and rises in temperature. It is flexible allowing it to remain undamaged by these unforeseen fluctuations.
Resistant to Pests – James Hardie's siding is made of a material that will not attract insects, vermin, and other pests. Instead, it acts as a shield to protect your home from these infestations and the damage that they can cause.
Fire-Resistant – Flames cause wood siding to combust and vinyl siding to melt. James Hardie siding is made up mostly of cement and sand, making it resistant to fires. Because of that resistance, many people often find better deals while shopping for homeowner's insurance.
Add an Extra Touch of Beauty to Your New Home
One of the most important things to someone building a new home is ensuring that it is beautiful. James Hardie siding is incredibly versatile, with a variety of styles and colors available to choose from. No matter the aesthetic you're looking for, they have you covered. Their siding is made from high-quality material that will add an extra touch of beauty to your brand new home.
Different Styles – No matter your style, James Hardie has a beautiful style for you. Each style of siding mimics the appearance of materials like cedar shingles, wood lap boards, and more. Their siding also features an embossed texturing that imitates a realistic wood grain.
Gorgeous Colors – One of the things that makes James Hardie so beloved is the wide variety of colors their siding comes in. Each hue is perfectly curated and sealed into the material. This technique gives the siding a beautiful finish that will resist chipping, cracking, and peeling. And if you ever consider changing up the look of your home years down the road, the siding can easily be painted.
James Hardie siding is also incredibly easy to maintain as well. The company recommends washing your siding every 6 to 12 months. You can do this with a hose and a soft brush or cloth.
The Best of the Best
Burbach Exteriors is the only approved contractor of James Hardie products in the Salt Lake City area. It's a product that we standby because it is the best of the best. Because we are the only approved contractor, we will install it correctly, ensuring that the products are backed up by a warranty. James Hardie siding will not only make your home more beautiful but will also protect it and increase its value.