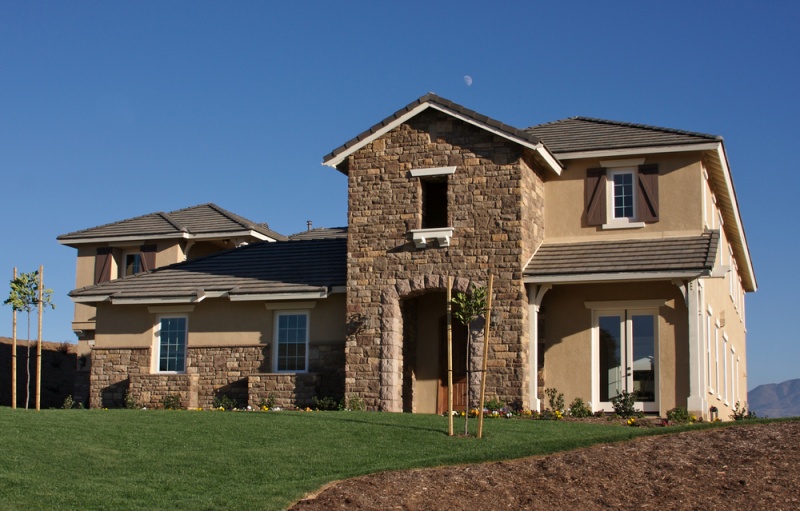 Can't decide between stucco and stone for your home exterior? Why not have both?!
This exciting trend is really gaining in popularity, especially here in the Intermountain West, where we have the open space for our homes to be our castles! 
Stone is a beautiful choice for a home exterior, but if your home is large, covering it all in stone can get expensive. Stone is extremely heavy and takes time to install properly.
OPT FOR A COMBO
Some homeowners opt to do only the front wall, but if more of your home is visible from the street, this isn't a good choice. Covering all of your walls with stone can make your house look dreary — more like a fortress than a home, so a combination of stone and stucco is a perfect solution.
It's important when you integrate stone and stucco in the same façade that it be done skillfully and with an eye for design. Color, for instance, is important.
Most stones are some shade of gray, but many are more of a beige, brown or reddish hue. Popular colors for stucco include sand and adobe, and this doesn't mesh well with every color stone. Some popular stucco colors that go nicely with varying types of stone include shades of gray, caramel or greens that venture into sage or olive territory.
ACCENT ON STUCCO
Once you think you know what colors you want, discuss with your designer which parts of the house will get stucco and which will get stone. Popular choices for accent areas include gables, dormers, porticos or any section of your exterior that sets it apart from the rest of the structure.
The irony with stone and stucco exteriors is that they have a reputation for being considered upscale and showy, but the reality is that over the years, you'll save a bundle in home maintenance and upkeep costs. No painting or sealing will ever be necessary, and you never have to worry about your materials rotting, degrading, catching fire or harboring termites.
And if you decide down the road you want a change, you can always get a different color stucco layered over the surface that you have. It's possible to paint stone, but we don't recommend it.
Stucco and stone are both extremely solid home exterior choices, and pairing the two gives your home great protection and amazing style.
If your home exterior needs updating, or if you're building a new home, a stucco and stone façade is a durable, timeless choice. Talk to the experts at Renovation by Burbach today to get an idea of how beautiful a stucco and stone exterior can make your home look.